Wisdom's Way of Learning
~ A Series of Four Books ~
by Marilyn Howshall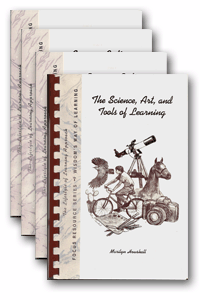 Wisdom's Way of Learning—A Comprehensive Look at the Lifestyle of Learning Approach
The reader is given a thorough introduction to the Lifestyle of Learning message which restores to (home) education the goal of developing the tools of learning and a love of learning within the student. An invaluable educational tool, Wisdom's Way of Learning will renew your mind to God's idea and purpose for education. You will never view your children's activities, whether academic or non-academic, the same again! It is eye-opening, life-changing, and heart-inspiring. It will point you to the One who is the Way—Jesus Christ. Following Jesus—this is Wisdom's Way of Learning.This series of books is numbered in sequential order and should be read in order for the best possible understanding, as different aspects of the Lifestyle of Learning Approach are developed in each book, building one upon another.
*This is four ebooks*
After purchase an email will be sent to allow four downloads, one for each of the four books. Purchased books will not be delivered through the postal service.